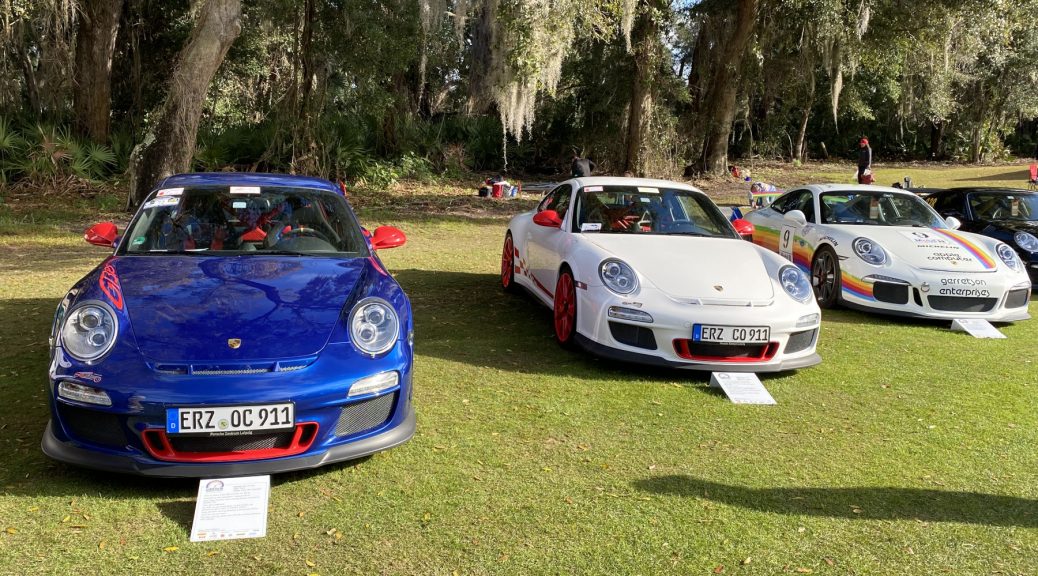 Werks Reunion Amelia Island and the Twins
Werks Reunion Amelia Island and the Twins
Our first official Porsche Club event in the U.S. was the Porsche Club of America Werks Reunion Amelia Island on March 6, 2020.
We didn't know what to expect us and to happen there. We knew Porsche Club events from Germany. But judged field, corral field, judging and Awards Ceremony was absolutly new for us and the Twins.
Werks Reunion – in Amerika ein Wort für Porsche Treffen wie bei uns "Mission 1000 in Roding" oder "1. Mai in Dinslaken".
700 Porsche – und wir mittendrin und voll dabei.
Ein 911 GT3 RS fällt schon auf. Wenn zwei zu sehen sind, werden die Augen schon größer. Wenn dann aber zwei deutsche GT3 RS mit deutscher Zulassung und deutschem Kennzeichen in Amerika auftreten, werden die Leute neugierig. Fragen und Antworten und Fotos am laufenden Band. So hatten wir den ganzen Tag kaum Zeit, uns die anderen 598 Porsche anzuschauen.
Mittags hieß es dann, dass ich mich malauf der PCA-Bühne melden solle, ich hätte wohl den Hauptpreis, einen Satz Pirelli Reifen, gewonnen. Die Freude bei mir war mindestens so groß, wie die Überraschung bei Vu Nguyen, als er mir den Gutschein überreichte.
Keine Stunde später sahen wir auf unseren Twins blaue Plaketten. Das Gefühl kann ich wirklich nicht beschreiben. Da gehen dir Gedanken durch den Kopf. Es dauert eine Zeit lang, bis du realisiert hast, dass dein Porsche einen ersten Platz gewonnen hat. In unserem Fall was es nicht nur ein Porsche, beide hatten einen ersten Preis gewonnen.
Klar. Irgendwie hatte ich schon gehofft, einen kleinen Preis für die weiteste Anreise zu bekommen. Das kennt man ja von diversen Treffen. Aber wir haben den ersten Preis in der GT-Klasse für die beste Story erhalten. "Zwei 911 GT3 RS auf ihrem US-Trip"
Wenn du dann mit deinem Porsche zur Siegerehrung vorfahren darfst, einen Pokal bekommst und ein Interwiew geben darfst, kommt schon etwas Stolz auf.
Wenn du dann hörst, dass es das erste Mal bei der Werks Reunion ist, dass ein erster Platz an ein Pärchen vergeben wird, denkst du, dass du träumst.
Aber wir leben unseren Traum!
The Twins as actors in PCA videos